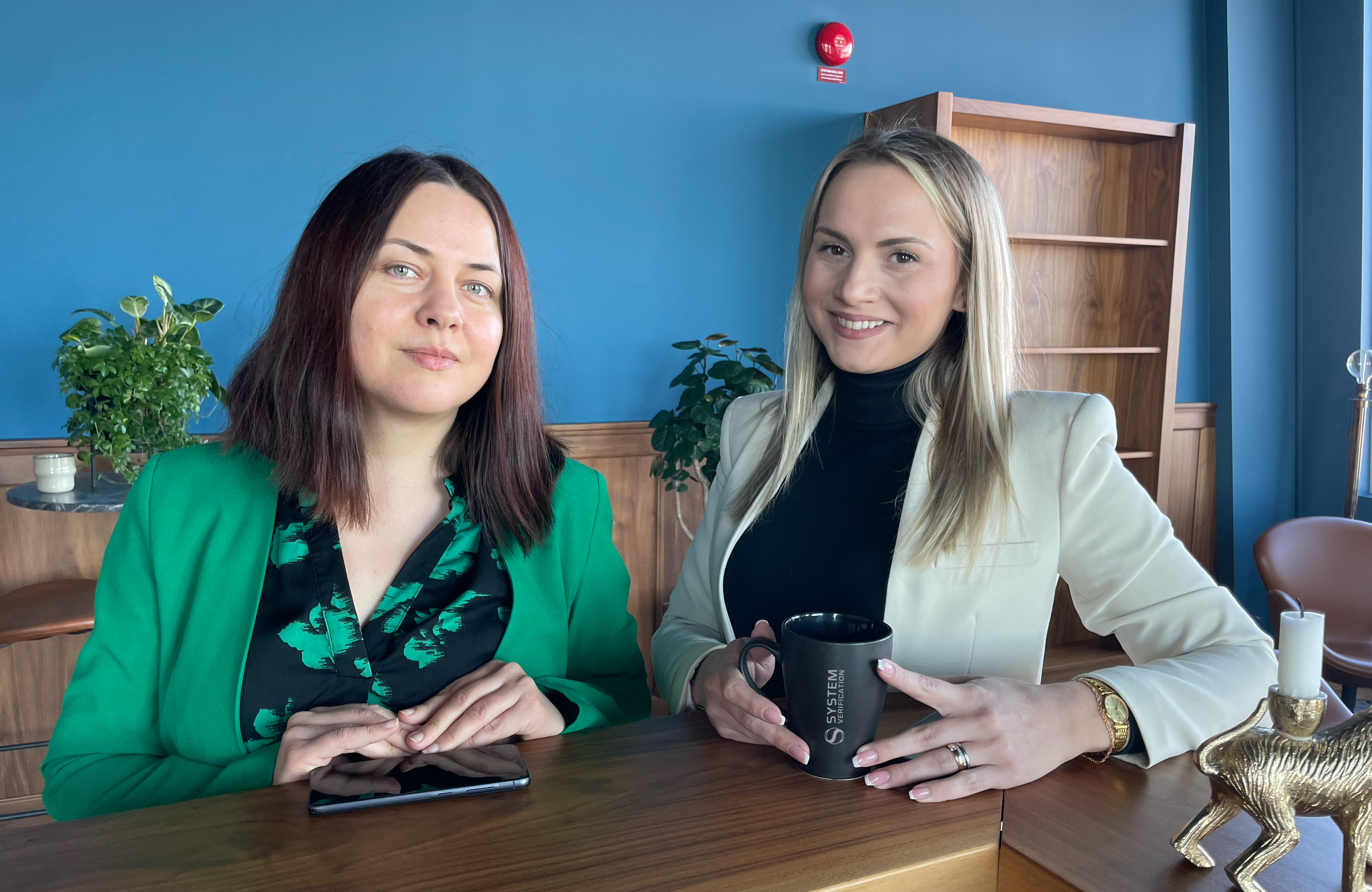 We are very proud of the great collaboration we continue to have with EC Utbildning in Malmö and good examples of that, are our new colleagues Maida and Svitlana, who recently graduated from EC Utbildning in Malmö. To get to know them a bit better, we asked them a few questions.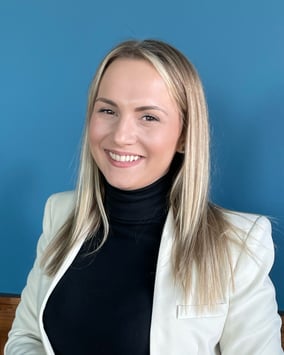 Tell us a little about who you are.
My name is Maida Erovic, and I come from Sarajevo,
Bosnia and Hercegovina.
I moved to Malmö, Sweden, seven years ago, and I am married and have two children. I love to read, walk and hang out with my family. I used to study law in Bosnia. But I never started working in this profession. After I finished all my studies that I needed to start studying at University or Higher Vocational Education, I was advised by two developers in my family to investigate QA, and that is how my journey stars. I didn't have any background in this area from earlier.
Which office have you started at?
I started my internship in the Malmö office during the winter of 2022, and am now part of this office.
What was the best thing about your EC education?
EC education is a good school that wants to produce great software testers. We had a teacher with good experience and excellent real-life examples—most of the education was based on the practical parts.
Students can say their opinion on everything if they need more support or are unsatisfied with the teacher or the way of teaching. EC education takes care of every student, and the needs student have.
You did your LIA internship with us at System Verification; would you like to tell us a little about what you got to do and how you liked it?
On the first day of my internship, I was afraid of everything. I didn't know what they expected to get from me - that feeling only had me for a day. From day one, everyone I met in this company had nothing but words of support and understanding. I had so many people around me that I could ask for help without feeling like I was boring to anyone. After the first week, I started actual work. I am the type of person who learns best with real projects and examples. Throughout the internship, I had a project and two mentors who supported me. I was able to show my potential and see that they appreciated my desire to learn new things.
What made you want to be part of System Verification?
My dream was to start working at System Verification, a small part because they are connected to my hometown, but mostly because I know there are no better companies in this field. The company's history gives us a picture of one serious, fast-growing company that cares for its employees. My class had the opportunity to have an event at System Verification during studies, and during the event, they announced that they would take one of us to do an internship at one team they have. Speakers and their set of talking about the job, how long they are working at System Verification, and their satisfaction with the company has given me more reasons why I wanted to apply for that internship.
What do you do when you are not working?
I like to watch TV, which relaxes me after a long day. When I have time, I go to the gym. I like to exercise. That gives me more energy and a positive feeling. I like to listen to audiobooks, I do not have so much time to sit and read, but audiobooks are with me everywhere, making dinner, doing laundry, and traveling, I am listening.
What did you do before you started your studies to become a software tester? What do you take with you from your previous profession?
In Bosnia, I studied law. I was at the end of my third year when I moved to Sweden. Law wasn't my thing. I didn't have luck with my dream of studying architecture. During my studies, I started to work as a sales adviser. I am good at communication and how to present something, to have patience for others, and the most important thing I have learned is that we are not all the same.
I worked mainly in a store and needed to pay attention to small details because customers saw everything. Because of that, I became detailed and meticulous as a person, which is what I take with me to this profession.

------------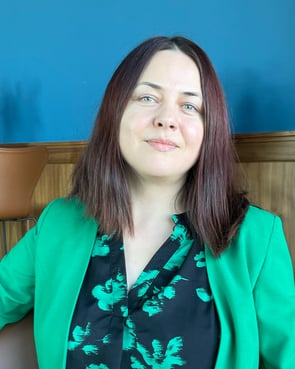 Tell us a little about who you are.
My name is Svitlana Volkova, and I moved to Sweden from Ukraine almost four years ago because my husband got a job here. It was the beginning of a new life, and a new profession was part of that change. I decided to become a software tester because I think it's an exciting and multifaceted occupation that offers great opportunities for professional development. But
first I needed to master the Swedish language at a sufficient level, which took me 2 years. For the next 1.5 years, I studied to become a tester. It was a rather difficult period of my life, especially since it coincided with the pandemic and the war in Ukraine, but I had a goal that I was striving for. Now I am starting a new stage - building a career in testing.
Which office have you started at?
I started working in the office of System Verification in Malmö.
What was the best thing about your EC education?
I believe that EC Utbildning has a well-designed training program adapted to the real needs of employers. I really liked the courses related to testing strategies and techniques, as well as analysis - this is the foundation, without it, it is difficult, if not impossible, to conduct high-quality testing. It is important for future testers not only to know the fundamental concepts and principles of testing but also to apply the acquired knowledge for practical tasks and in different contexts. We had the opportunity to train on various websites and applications, including active projects. It was useful to get acquainted with test automation - why and when it should be implemented, what tools and programs to use, etc.
An important part of the course was the internship and thesis - this is the final stage, when a lot of time is devoted to independent work, and when you can assess whether your knowledge meets different employers' expectations. It is also an opportunity to close some gaps, to explore some areas of testing more deeply.

Where did you do your internship and how was it?
I interned at ASSA ABLOY Entrance System which is a leading supplier of entrance solutions and services. I can't say that I chose the best option for my internship - after all, testing industrial doors, and embedded and IoT systems requires a fairly high level of technical knowledge, which I didn't have. However, it was a valuable experience, precisely because now I understand the peculiarities and challenges of testing complex physical objects a little bit better. It was also useful to see how the testing process is structured in a large company with a clear division of roles, and how communication takes place at different levels. In addition, I had the opportunity to improve my test automation skills by developing autotests for a remote door control program. The practice also means getting to know experienced testers, and such contacts are one of the most important assets of a beginner tester.

What made you want to be part of System Verification?
System Verification is an international company that has been operating in Sweden for a long time, has a good reputation, and cooperates with solid clients. I learned about System Verification when we (students from EC Utbildning) were invited to the office in May 2022. I was excited about the view from the windows and the office in general :). We were introduced to the company and talked about its activities. That was the first time I thought that I would like to work as a consultant because it is a great opportunity to work on different projects without changing jobs.
But the main reason why I wanted to work at System Verification is the great atmosphere in the team - absolutely all the employees I talked to are very positive and friendly. For me, as a newcomer to the profession and a person without work experience in Sweden, it is very important to feel the support and understanding of colleagues.
What do you do when you are not working?
I like to read - nowadays it's mostly specialized literature, but in general I like detective stories and thrillers. Although right now I am reading Fredrik Backman's "Britt-Marie var här". I love traveling and exploring new places, going for long walks, riding a bike, and playing badminton (now not as often as I would like) with my husband. I regularly communicate with my relatives who live in Ukraine and England, meet with friends, and watch series or TV programs.
What did you do before you started your studies to become a software tester? What do you take with you from your previous profession?
When I lived in Ukraine, I managed to work in different areas - sales, marketing, logistics, and sometimes even within the same company. This helped me to better understand how the business operates and how to take into account possible risks. In addition, I had to establish contacts with different people and resolve conflict situations, which is always a necessary experience :).
For the last few years before moving to Sweden, I worked as a journalist, editor, and content creator. These professions teach you to be systematic, comply with requirements and standards, and work on the quality of the material. They also teach you to collect and analyze information, ask clarifying questions, and sometimes defend your opinion about what was written. I think all this can be useful in my work as a test consultant.