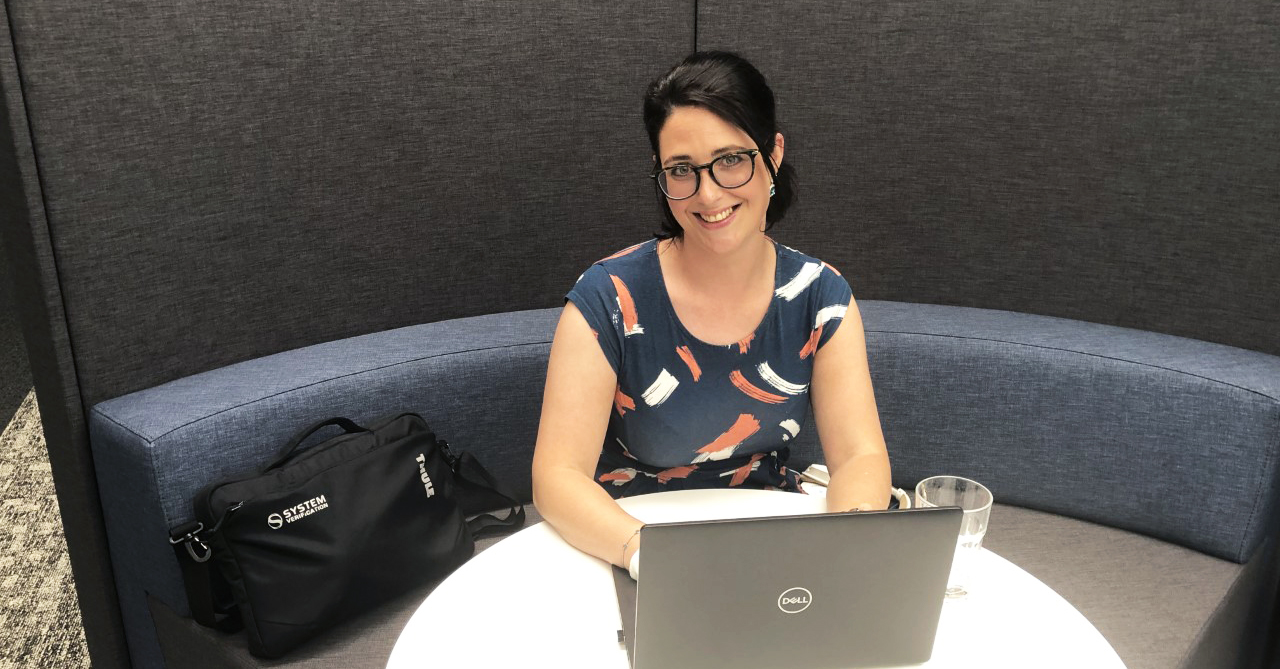 Since end of March, I can proudly say, that I am finally part of the System Verification Team. Why finally? Well, from the moment I got to know System Verification, until signing my Internship Contract and having my first day working in our beautiful Office in Bonn, some time has passed.
After leaving my hometown in the Netherlands, I worked and lived in several European countries. One of the biggest issues I experienced, no matter the location, was the lack of digitalization, the poor quality of knowledge about this topic and thus, the big and renewing opportunities companies were missing. As time went by, the world changed, and I decided to change with it. Having worked in retail and fashion before, I started studying merchant in E-Commerce. A part of this degree is a 6-month internship, and this is where System Verifications comes in.
Erwin Probst, CEO for Germany, represented System Verification at the career fair, September 2021 in Bonn. By inviting visitors to play the Bug Hunter Game, he introduced the world of QA and System Verification. To cut things short, I played the game, failed completely, but had a great conversation with Erwin about the company, the meaning of E-commerce and the possibility of an internship at System Verification. Short before Christmas, we, after obtaining all approvals, signed the contract, and now my life as a Sales Trainee has finally begun.
From day one, I stepped into a whole new world. Of course, I knew about software QA, it´s importance and the various possibilities regarding this area. Still, I felt overwhelmed, surprised by the many aspects, different kind of options and profoundness this topic includes.
Luckily, I was offered a great way of interactive learning. Through our Udemy Academy, I had access to several courses, learning materials, practice tests with feedback from fellow participants.
Beside this, through several meet&greets during our warm welcoming onboarding process at System Verification, I was not only able to get to know my colleagues better, I also had the chance to learn from our experts how software QA really works. This way I could quickly gather the knowledge needed for assisting our assignment coordination, meaning, matching our QA professionals with fitting projects, and providing our customers and partners with the expertise required for their specific needs. Additionally, I'm supporting our junior consultants in their development, for instance working on the ISTQB certification together.
Beside this challenging tasks, I got the exiting opportunity to assist our new Regional Manager, Martin Rütz, on continuously improving our sales strategy. Since we're only operating on the German market for 3 years, we have a great deal of work staging a solid sales department.
Together with Martin, I participate in our Software Due Diligence Campaign. By team brainstorming, profound research, gathering and sharing knowledge and reviewing Marketing material, we successfully launched this great, valuable service to a choice of companies.
Taking the lessons learned and refining our proficiency, we followed enrolling our Nearshore Campaign. For this Project, I met our Bosnian colleague, Enisha Haznadar, a powerful and cheered up women. She gave me important insights on Nearshore business, shared valuable expertise and introduced me to a part of the great Bosnian culture.
Through all this experiences, one of our core values, respecting and supporting each other, is undoubtedly proved to be the established way of working at System Verification. How great to work at a company with high quality standards, not only for its customers, but also for the way it treats its employees! We work as a team, we struggle as a team, we achieve and celebrate our success as a team.
What's next? Besides my persisting responsibilities, we start to create some interesting marketing material for our German partners and customers. Case studies, further details about our Software Services, the opportunities of Nearshoring and several new capabilities of System Verification, all designated for truly Improving Digital Life in Germany.
But, the most excited I am about, is our conference trip to Split! You'll get to read all about this in the next SyVe Insight blog post.