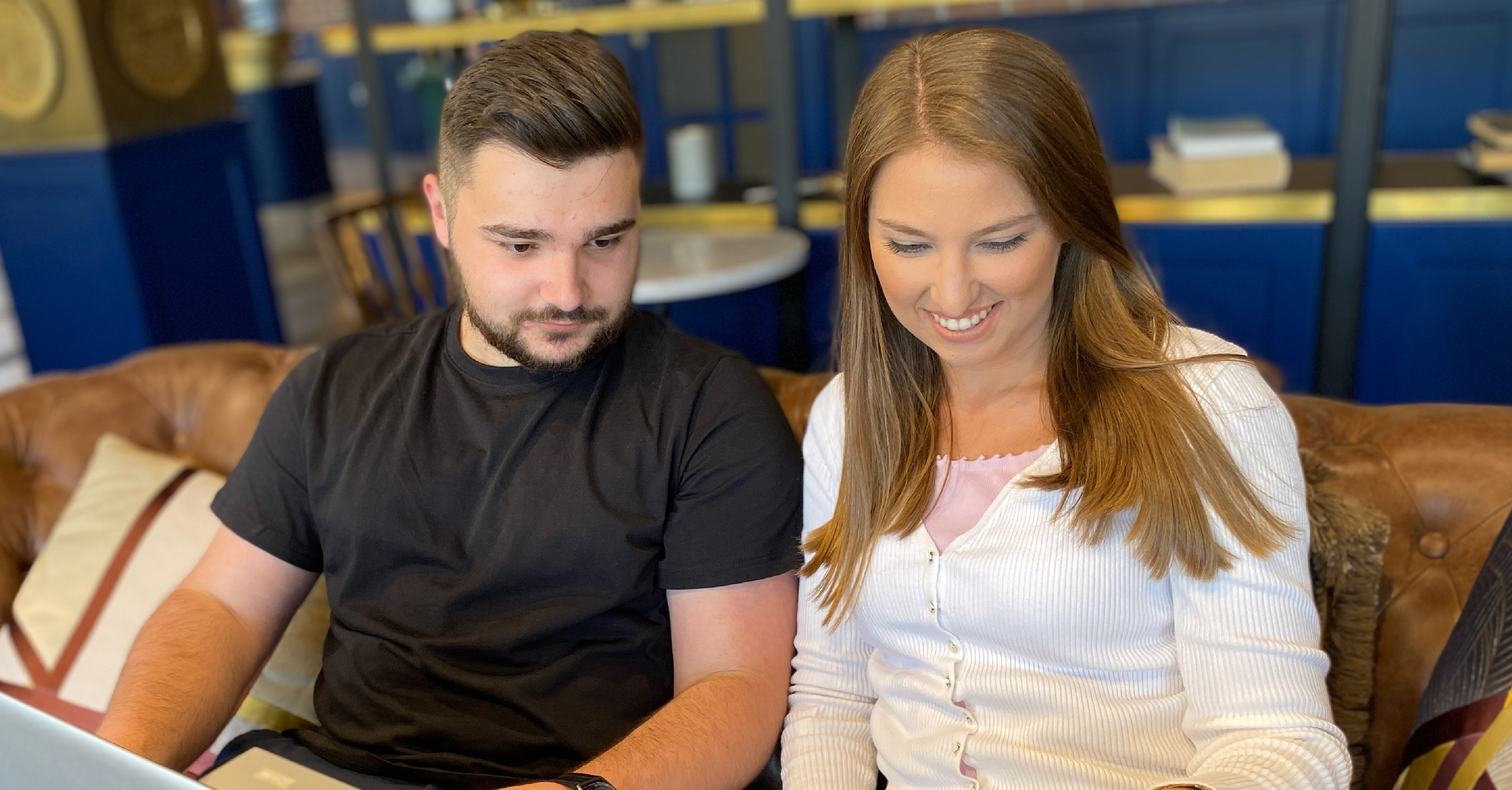 Starting your first work experience might be challenging and stressful, especially if you have mentors with many years of experience and want to present yourself in the best version possible. When you step into a completely new version of the working industry after college, you may have no idea what to expect or offer from your background knowledge. The expectations are high, but how can you learn and apply everything correctly? Turning fear into a challenge is one of our ways of helping new colleagues and interns to overcome their fears and anxieties about sharing their knowledge and even making mistakes from which we can all learn. In our community, you will always have selfless help from all colleagues, extraordinary mentors who have many years of experience and are happy to share their knowledge with you, and a happy, friendly working environment.
Our two colleagues Merisa and Zinedin are a great example of an effective team and mutual learning from the beginner stages to the QA expert. We are willing to share with you one successful experience of what our development process for a QA beginner looks like and how our QA expert tries to transfer all the knowledge to him. Zinedin recently joined our team, where he heard about the best experiences at our company and many years of nurturing the company's culture through friends from college, and applied for the position of Test Engineer. Zinedin came to our company with no work experience in the IT industry other than university knowledge and wanted his first work experience to be in a forward-thinking company that values its employees, closely monitors their progress and career paths, and collaborates to create new innovations and positive outcomes. Working with his mentor, Merisa, is pleasurable for him because he never feels like he is a hindrance to her, and with each new day, he is gaining more confidence in his knowledge and skills. Working on real-life projects with the constant encouragement of all colleagues and mentors, aided Zinedin's progression and comprehension of the IT business, and we are convinced that with continued effort and good mentoring, we will achieve even more in the near future.
On the other side, our little bird told us that Merisa in addition to working on dynamic and challenging projects where she has shown excellent results is also successfully mentoring our colleague Zinedin! After successfully completing her studies and four years of learning and advancing in the IT industry, Merisa joined our team last year and, with her curiosity and proactivity, brought new achievements. She believes that knowledge expansion and career improvement must always step out of the comfort zone and that asking questions and additional research are prime ingredients for personal development. System Verification is her main choice after many years of experience and working in other companies due to our passion for nurturing the culture and work of employees who are satisfied and happy with the work they do. Since System Verification is a company focused on QA processes, Merisa has developed even better in the engineering context, where she exchanged experiences with colleagues and discussed problems and their solutions. Merisa has had the opportunity to be a mentor several times in her career so far and each time she tried to adjust the knowledge transfer to the current knowledge of a colleague by making a good plan, where she also learns something new every time that she can improve in the next mentoring process. Being a mentor is a challenging role because it is a great responsibility to know how to adequately transfer certain knowledge to a colleague and still take into account that knowledge must be transferred gradually so that the person does not feel overwhelmed. She is extremely excited to have another chance to mentor Zinedin, who has already expressed an interest in learning the project's business logic and participating in the various project processes.
Zinedin's and Merisa's paths may differ at this time, but they have the same aim of moving forward and gaining new successes.
Keep an eye out for the next fascinating story and blog article and see that everything in System Verification is possible.